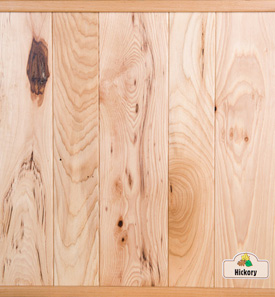 Hickory | aka: pecan nut, pecan hickory, sweet pecan, nogal morado, and pecanier. Growth: United States and Mexico.

Appearance: Tight, generally straight grain with a coarse texture. Pale to reddish brown heartwood and whitish sapwood.

Physical Props: Very heavy, hard, strong, stiff and shock resistant. Good dimensional stability and low decay resistance.

Working Props: Turns and otherwise machines well but can be difficult to work with hand tools. Glues, screws, and nails well. Stains satisfactorily and polishes to a nice shiny finish.

a Uses: Ideal for applications where strength and elasticity are important. Used for tool handles, farm implements, vehicle parts, baseball bats, flooring, veneers, paneling, long-wearing chair parts (legs, backs, rungs), dowels, poles, ladders, turnery, and interior furniture.