Custom Wood Flooring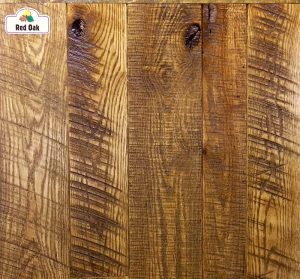 On-site manufacturing, allows Aitkin Hardwoods to offer our customers truly unique solid wood floor and stair components. We offer both Domestic and Exotic wood species in different grades and styles. Give your home or office its own unique look by installing a floor that reflects a true personality.
Aitkin Hardwoods offers the following featured floor coverings (available ONLY at AHW):
Solid Wood Flooring
Timber Ridge | Circle Sawn | Timber Sawn
Timber Ridge is Aitkin Hardwoods marquee hardwood flooring. This unique and rustic flooring is available in 13 the popular wood species. Timber Ridge provides the roughened look that hides wear and tear extremely well and is very durable. Learn more about Timber Ridge.
Circle Sawn shows a very unique circular pattern in the wood made by the actual saw blade. This is very popular and also available in the wood species as Timber Ridge. Learn more about Circle Sawn.
Timber Sawn is a brand new hybrid of the Timber Ridge style combined with the Circular Sawn cut to bring incredible character to the surface of the flooring or paneling. Learn more about Timber Sawn.
Solid Hardwood Flooring:
All domestic and most exotic species are available from a range of widths from 2 ½ on up. Although we don't recommend widths wider than 6-7" we can get it. Most of our solid flooring is ¾" thick. Solid Flooring is a moving living wood floor and there are no guarantee or warranties with nature. Installation ranges from floating, glue down, nail or staple. We have many options to see in our showroom.
Solid Flooring is available prefinished or unfinished:
Prefinished: The floor is already coated with either a sealer or a stain. Some have a finish warranty. Once installed this floor is ready for use.
Unfinished or Site Finish: This will require sanding and sealing or staining. This allows you more flexibility in achieving exactly the right custom look. This floor must be sealed, once installed, before use.